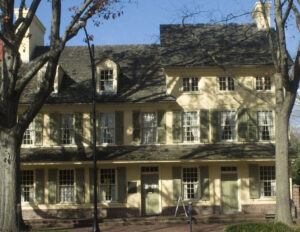 The Indian King Tavern Museum is more than a 200-year-old facility nestled on Kings Highway — the main street in historic Haddonfield, NJ. It is New Jersey's first state-owned historic site (acquired in 1903) and it is where New Jersey completed its transition from colony to state. Here, on the second-floor meeting room, laws that revised election procedures, created township governments and set up state courts were passed. Measures imposing martial law, strengthening the militia, regulating a war economy and providing emergency support to the Continental Army were taken. All this led to the freedom and democracy we now take for granted in these United States of America.
This important facility is part of the fabric of our great nation. It also represents a simpler time when friends met over a glass of ale and piece of bread and shared stories and laughter. They also dined on fresh food and herbs from the garden amidst candlelit tables and a roaring fireplace. They paid one shilling and six pence for a room often shared by three other guests who stopped at the Tavern overnight on their way to Philadelphia or New York.
Today, The Indian King Tavern Museum offers free tours and history lessons to all who knock on its solid oak door. Student field trips are at no cost to the students nor schools and often teachers create entire lesson plans around their visits to Indian King.
Special holiday events and lectures are regularly held here including food and beer tastings to help people recreate an earlier time and appreciate how things were done in the 1700's.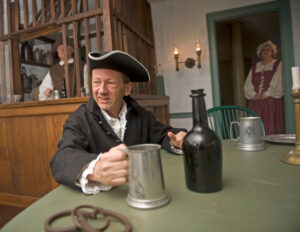 The Indian King Tavern Museum is a step back in time with a wealth of information to help us in the future.
The building predates its use as a tavern. The oldest portion was constructed in 1730 by Timothy Matlack Sr. The newest portion of the structure was built circa 1830 to accommodate coal heating of the building.
The building operated as a tavern from the spring of 1777 until 1873, providing locals and travelers food and drink, lodging, and lively conversation. Alcohol was served until 1873 when Haddonfield became a dry community.
New Jersey's newly formed patriot government met at the Indian King Tavern from Jan. 1777 to Sept of that same year. Here, legislators passed laws governing elections, courts, and Townships, and struggled to wage war against an occupying army.
This historic building is New Jersey's first state-owned historic site (1903). It was acquired as the result of petitioning by the Haddonfield Chapter of the DAR (Daughters of the American Revolution) to the New Jersey State legislators.
Today, the building serves the community at large as a museum connecting the public to our revolutionary past. The museum is open most Wednesdays through Sundays.